Michael Vick might be the householdiest name in the NFL. Which is to say: because of his conviction on dogfighting and cruelty to animals charges four years ago and his subsequent incarceration, any given dinner table discussion of Michael Vick could most likely be reduced to the elemental question of "would Michael Vick be welcomed into this household?" Even two years after his release from prison, Vick remains an extremely polarizing figure in the sports world.
It is probably obvious to most that Michael Vick is black. So, naturally, race plays a role in the way he is perceived, and many have no doubt wondered how things would be different if Michael Vick was white. It's a question that "esteemed cultural critic" and mononymous person, Touré, claims to hate but nevertheless ponders in depth in a
recent ESPN The Magazine article
. Titled "What if Michael Vick were white?" (against the author's will, apparently) the article is accompanied by a literally absurd and absurdly literal photoshopped image of a white-skinned Michael Vick.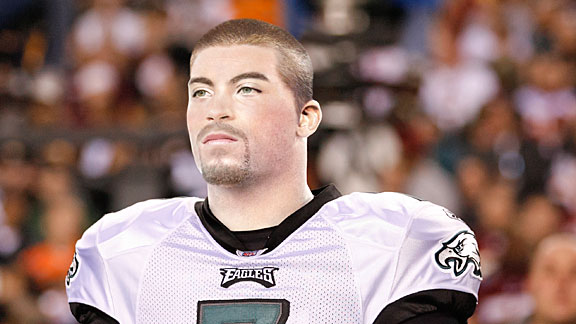 The headline and image have generated a lot of controversy and have been the subject of ridicule since the article's publication. ESPN, for its part,
has defended
the use of the Chappelleian whiteface version of Vick, stating:
We firmly stand by our representation of the story and the photo-illustration, which has since been re-posted and appreciate and encourage the discussion it has prompted.
But the discussion it has prompted, or, rather, the one it hasn't is precisely the problem.
After the article went live, Touré took to twitter to publicly distance himself from ESPN's choice of a title and art for the piece. "I asked them not to call it What If Vick Were White but they did,"
he said
. "ESPN the mag titled it & added art without me (normal procedure). Judge me on the story not the art," he
tweeted later
. But Touré should be utterly relieved that ESPN's editors chose such a jarring photo and title to sit atop the piece--they serve to channel discussion away from the content of the article, which as it turns out is deeply problematic.
This is why when
he tweeted
"My essay on Vick is nowhere near as inflammatory as the pic of him in whiteface which contradicts me saying you can't imagine him as white," he couldn't have been more wrong.