Michael Vick might be the householdiest name in the NFL. Which is to say: because of his conviction on dogfighting and cruelty to animals charges four years ago and his subsequent incarceration, any given dinner table discussion of Michael Vick could most likely be reduced to the elemental question of "would Michael Vick be welcomed into this household?" Even two years after his release from prison, Vick remains an extremely polarizing figure in the sports world.
It is probably obvious to most that Michael Vick is black. So, naturally, race plays a role in the way he is perceived, and many have no doubt wondered how things would be different if Michael Vick was white. It's a question that "esteemed cultural critic" and mononymous person, Touré, claims to hate but nevertheless ponders in depth in a
recent ESPN The Magazine article
. Titled "What if Michael Vick were white?" (against the author's will, apparently) the article is accompanied by a literally absurd and absurdly literal photoshopped image of a white-skinned Michael Vick.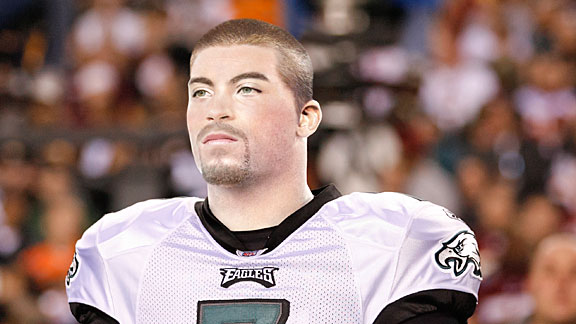 The headline and image have generated a lot of controversy and have been the subject of ridicule since the article's publication. ESPN, for its part,
has defended
the use of the Chappelleian whiteface version of Vick, stating:
We firmly stand by our representation of the story and the photo-illustration, which has since been re-posted and appreciate and encourage the discussion it has prompted.
But the discussion it has prompted, or, rather, the one it hasn't is precisely the problem.
After the article went live, Touré took to twitter to publicly distance himself from ESPN's choice of a title and art for the piece. "I asked them not to call it What If Vick Were White but they did,"
he said
. "ESPN the mag titled it & added art without me (normal procedure). Judge me on the story not the art," he
tweeted later
. But Touré should be utterly relieved that ESPN's editors chose such a jarring photo and title to sit atop the piece--they serve to channel discussion away from the content of the article, which as it turns out is deeply problematic.
This is why when
he tweeted
"My essay on Vick is nowhere near as inflammatory as the pic of him in whiteface which contradicts me saying you can't imagine him as white," he couldn't have been more wrong.
Viva Essentialism!
Since the academic consolidation of the 1960s political insurgencies, the social scientific consensus has held that race is an ideological construct that emerged under a very specific set of historical conditions to explain and justify (and thus perpetuate) the exclusion of Americans of African descent from the polity and their position in the slave system.
At the same time, it is generally agreed upon by most credible scholars that there are no such things as biological races. The range of genetic variation within a population that would typically be thought of as comprised of people of the same race is far greater than the range of variation between members of different races. Political scientist Adolph Reed has used the example of "racially-linked diseases" to illustrate the folly in efforts to naturalize race. The sickle-cell trait, normally associated with black people in America, originally evolved as an adaptation to protect against malaria. Because malarial mosquitos are prevalent in much of western and central Africa, and because the majority of black Americans are descended from western and central Africans, it follows that sickle-cell would be thought of as a "black disease" in America. But, Reed notes, what if we were to create an imaginary country inhabited by, say, white people from Greece (where malarial mosquitos are prevalent) and black people from South Africa (where they are not)? In this country, sickle-cell would instead be thought of as a white disease. In other words, people differ, but it makes no sense to think of these differences as racial.
While we no longer believe that people possess a biological racial essence, it would be wrong to say that racial essentialism is dead. It is alive and well. People have just attempted to replace the notion of race with one of culture. Now, instead of a set of biological traits that define one as black or white, people understand race as a set of behaviors, practices, and traditions. Touré makes it abundantly clear early in his article that this is the view of race he subscribes to:
When Michael Vick plays, I see streetball. I don't just mean that sort of football where you have to count to four-Mississippi before you can rush the quarterback, nearly everything breaks down and it's all great fun. I also mean street basketball. Vick's style reminds me of Allen Iverson -- the speed, the court sense, the sharp cuts, the dekes, the swag. In those breathtaking moments when the Eagles QB abandons the pocket and takes off, it feels as if he's thumbing his nose at the whole regimented, militaristic ethos of the game.

All of that is why, to me, Vick seems to have a deeply African-American approach to the game. I'm not saying that a black QB who stands in the pocket ain't playing black. I'm saying Vick's style is so badass, so artistic, so fluid, so flamboyant, so relentless -- so representative of black athletic style -- that if there were a stat for swagger points, Vick would be the No. 1 quarterback in the league by far.
It is not hard to understand why some see the cultural view of race as preferable to the biological view. After all, the belief in blacks' innate racial inferiority and subsequent efforts to confirm that belief with pseudoscience were used to justify their treatment as sub-humans for much of American history.
But it is also not hard to see just what is wrong with Touré's statement and, likewise, what is wrong with the race-as-culture line. What exactly is meant by statements like "Vick seems to have a deeply African-American approach to the game" and "Vick's style is...so representative of black athletic style"? Isn't it true that an elite athlete who happens to be white is more likely to be able to be fast, agile, and all of the other things he says are particular to "black athletic style" than 99 percent of black people? So it would seem to make more sense to say Vick's style of play is representative of only the most elite athletes--a fraction of a percentage point of the American population--than to say it is "black."
There's little doubt that if he was asked, Touré would reject the notion that races are fixed biological entities. The trouble with viewing race as a set of cultural practices, however, is that it is not actually an alternative to the idea that race is an immutable physical fact, but is instead totally dependent on it. If we take the example of hip hop, as Walter Benn Michaels does in his provocative book
The Trouble With Diversity
(2007), this dynamic is thrown into stark relief:
If, starting tomorrow, the only people who listened to or performed hip-hop were white (we're already halfway there), hip-hop would be a part of white culture, and if every black kid in the country were into emo, emo would be a part of black culture. It's not the blackness of the culture that makes the people black; it's the blackness of the people that makes the culture black.
Put another way: if the only people who played the quarterback position artistically, fluidly, flamboyantly, and relentlessly were white, these things would be constitutive of a white athletic style. We see, then, that the belief that Michael Vick's style of play is "representative of black athletic style" rests on the idea that the human species is already divided into races. So while Touré might not intend to do it (or even realize he is), he is taking an essentialist position, because at its core it implies that there exists something called the "black race" whose members play football in a certain way.
Finally, Touré's equation of adjectives like "artistic, fluid, and flamboyant" with "black athletic style" recalls the concept of "racial temperament" popular among early 20th century social scientists. One of the most famous exponents of this idea was Robert Park, a founding member of the influential Chicago School of sociology, who explained:
that Teuton and Latin, the Negro and the Jew--to compare the most primitive with the most sophisticated of peoples--have certain racial aptitudes, certain innate and characteristic differences of temperament which manifest themselves especially in the objects of attention, in tastes, and in talents.
Whereas the Jew is an intellectual and an idealist and the Anglo-Saxon is a pioneer and frontiersman, he continued, the black
is primarily an artist, loving life for its own sake. His métier is expression rather than action. He is, so to speak, the lady among the races.
And it's only a half-step before we arrive at the idea that black athletic style is naturally artistic. It's not surprising that this view has persisted to the present day given all the bad ideas about race that are floating around. It
is
somewhat surprising that such troubling ideas about race would be espoused by someone who has written a book called
Who's Afraid of Post-Blackness: What It Means to Be Black Now
, which
according to Amazon.com
"Destroy[s] the notion that there is a correct way of being Black."
Maybe the problem is that it doesn't destroy the notion that there is any way to "be black" at all.
Moynihan's Ghosts
Touré rightly acknowledges that his article's central question, "What if Michael Vick were white?," is fundamentally unknowable:
This question makes me cringe. It is so facile, naive, shortsighted and flawed that it is meaningless. Whiteness comes with great advantages, but it's not a get-out-of-every-crime-free card. Killing dogs is a heinous crime that disgusts and frightens many Americans. I'm certain white privilege would not be enough to rescue a white NFL star caught killing dogs.
Yet, it is exactly the question he spends the remaining six paragraphs discussing. Touré's basic argument is not particularly controversial: Michael Vick is a product of his environment and his decision to run a dogfighting ring cannot be understood without the proper context, an observation that is so commonsensical as to be uninteresting. We are all products of our circumstances--our class, race, and family life have important roles in shaping the people we turn out to be. It's the path Touré takes to arrive at this conclusion that is disturbing.
In Touré's estimation, a white Michael Vick's life chances would have been drastically different from those of the real Michael Vick such that he never would have been introduced to dogfighting and would have never been in the position to get busted for brutalizing animals in the first place. It is a matter of class and, again, culture. A white Michael Vick would not have been poor and thus would not have been introduced to the facet of poor black culture that is dogfighting. This assumption is spurious for two reasons. First, while a greater percentage of black people are poor, the majority of poor people in American are white. Being born white is by no means an express train into middle-class status. And second, dogfighting and other forms of cruelty to animals are hardly exclusively black phenomena. In fact, as others have
already
noted
, dogfighting has its roots in rural white communities and maintains its popularity there.
This notion of a behaviorally defective black population appears to be quite appealing to Touré, and he's certainly not alone. In 1965, future Senator Daniel Patrick Moynihan (then Assistant Secretary of Labor) rose to prominence when he released his notorious report,
The Negro Family: The Case for National Action
. Drawing on the "culture of poverty" thesis first described by anthropologist Oscar Lewis in his 1959 work,
Five Families: Mexican Case Studies in the Culture of Poverty,
the central claim of the Moynihan Report was that the black family was mired in a self-perpetuating "tangle of pathology" and, owing to the history of slavery, Jim Crow, and continued poverty, had been rendered matriarchal. According to Moynihan, this arrangement
seriously retards the progress of the groups as a whole, and imposes a crushing burden on the Negro male and, in consequence, on a great many Negro women as well.
Thus, what was needed was not an anti-poverty policy that attacked the structural roots of poverty, but one that targeted the pathological behavior of the poor. The Moynihan Report was hugely influential in shaping Lyndon B. Johnson's War on Poverty programs and to this day informs the way many Americans think about the poor.
Touré tacks dangerously close to Moynihan's line when he moves the discussion on to Vick's family life:
Here's another question: If Vick grew up with the paternal support that white kids are more likely to have (72 percent percent of black children are born to unwed mothers compared with 29 percent of white children), would he have been involved in dogfighting? I ask this not to look for an excuse but to explore the roots of his behavior. Vick's stunningly stupid moral breakdown with respect to dogs is certainly related to the culture of the world he grew up in, which he says fully embraced dogfighting. But it's also related to the household he grew up in.
Although he stops just short of making the causal connection between personal deficiency and poverty, his formulation packs the same sexist one-two punch; while men are too busy using drugs and committing crimes to fulfill their duties as fathers, the logic goes, women are responsible for perpetuating poverty by continuing to bring children into the world without a stable male presence. The implication is of course that women are unfit to raise children on their own.
The moment we ascribe poverty and criminal behavior to familial arrangements, the onus is lifted off of the government to address their structural roots by providing stable jobs, good education, affordable housing, and other basic services and is shifted onto the poor themselves. When we turn poverty into an individualized problem, it requires individualized solutions. So all it takes from this perspective is moral rearmament, behavioral modification, and a little bit of elbow grease and,
voila
, no more poverty--oh, hey, the best part is that the government doesn't have to shell out a cent!
If Michael Vick's story is instructive for any reason it is not as fodder for some pointless this-never-would-have-happened-if-he-was-white thought experiment, but as an example of how the American discourse on race and poverty is still polluted with crackpot essentialisms and victim-blaming moralism.
It's time to move on.