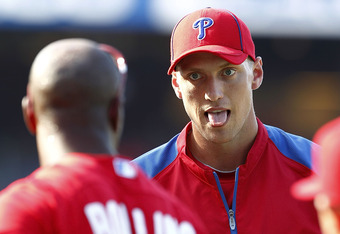 Hunter Pence "plays the game the Right Way" and you should too
We interrupt your lack of regularly scheduled programming for a brief message:
If you enjoy reading this blog, then boy have I got something exciting for you!
Our friends over at
Dingers Blog
are hoping to embark on a serious research project that tracks racist shit in baseball. Here's
the gist
:
This project was dedicated to taking any instances in which a black, white, latino or asian player was belittled or praised for hustle, or lack thereof, or any other instances that may have a mildly racist connotation.

In previous years, we've kept track in two different ways: the major incidents and the minor incidents. The major incidents are incidents that are without a doubt in clear view--when a manager or teammate calls out a player for anything mildly racist. The minor incidents are any incident in which a sports columnist, blogger, player, manager, coach, farm hand, broadcaster, groundskeeper, anonymous fan or sentient television says something with racist undertones.

However fun this was to do, it was completely unscientific. In the middle of our second year, I was approached by a grad student named Adam who wanted to help in order to make it more scientific. He came up with a full list of data requirements and lit review and now that we have this going for us, we need 30 people to watch 30 broadcasts for a month.
Now, the thing is that they need money in order to pay their researchers to complete this project. So that's where you come in. You can go over to the site liked above and donate as much or as little as you please. Again, if you enjoy reading this site, you should already feel invested in the results of their study, so now go and
actually invest
in their study!
Finally, after more than a month of inactivity I am hoping to have some new content up on this site soon. I am deeply sorry for my absence, but other obligations called. But alas, the world keeps turning and people keep saying racist shit.