Luke Scott doing hoodrat stuff
Orioles left fielder Luke Scott came out of the proverbial "right-wing dumbass" closet this offseason when in an interview with Yahoo.com's David Brown he stated his belief,
among other things
, that Barack Obama was not born in the United States:
DB: You don't think that Obama wasn't born in the United States, do you?
LS: He was not born here.
DB: [Sighs].
LS: That's my belief. I was born here. If someone accuses me of not being born here, I can go — within 10 minutes — to my filing cabinet and I can pick up my real birth certificate and I can go, "See? Look! Here it is. Here it is." The man has dodged everything. He dodges questions, he doesn't answer anything. And why? Because he's hiding something.
Rightly, Scott drew a lot of fire for his comments in the interview and has been pegged as a "right-wing nut, a borderline racist and a loudmouth redneck ballplayer" as Amy K. Nelson aptly puts it in her
recent column
at ESPN.com.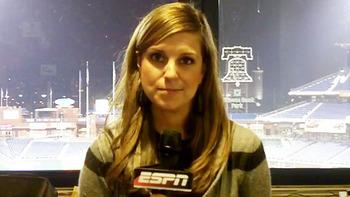 Luke Scott's hagiographer
Unfortunately for Nelson, that is just about the only thing that is apt about the column, which amounts to little more than a 4000 word apologia for baseball's biggest bigot. Nelson lays out her aims in the beginning:
Scott is one of baseball's most complex characters. His questions about President Barack Obama's U.S. citizenship put him in headlines during an otherwise-quiet offseason. He speaks bluntly and with heavy opinions. He's fluent in Spanish and loves Latin culture, but in the clubhouse, he'll make potentially inflammatory comments to a Latino player who is his best friend -- throwing plantain chips at him to keep him in line. He wears religion on his sleeve.

Given all that, the simple assumption is that Scott is a right-wing nut, a borderline racist and a loudmouth redneck ballplayer who should keep his mouth shut.

But it's not that simple. Luke Scott will require a deeper line of thinking.
Now, one would think that "it's not that simple. Luke Scott will require a deeper line of thinking" implies that what follows in the column thoroughly rebuts the impression in many people's minds that Scott is a hick-ass, racist-ass, right-winger. With this opening, you'd expect the column to reveal how Scott's comments were just misunderstood. In fact, what we actually get is a picture of a player who is every bit the hick-ass, racist-ass, right-wing crackpot we thought he was--and more. As it turns out, it is that simple and Luke Scott does not "require a deeper line of thinking" at all.
Ultimately, the article reads like a profile of the prototypical tea-bagging, bible-thumping, gun-loving, conspiracy theory peddling "Real Amurrican" that watched Sarah Palin's Alaska show, and liked it. Nelson quotes Scott speaking at length about the Constitution, "our forefathers," and his subconscious admiration of the work of Horatio Alger:
Scott says that his overall message about accountability was missed, and it's all quite simple: He lives his life by certain principles, and chief among those is accountability. He believes in people working hard for their lot in life; he was raised very poor with little means. His family worked hard for its money, living off the land and not accepting any government assistance.

"Our forefathers got it; they got it, man," Scott says. "They took godly principles and they put them into action, and they developed our Constitution -- the land of freedom where each man is accountable and responsible for his actions. By the sweat of his brow and the effort he makes he can mark out his future, regardless of opportunity.

"Like me, I come from -- I didn't have the best baseball equipment, I didn't play in travel ball leagues. I played for Winkler Concrete and Martin Fernery, but I worked hard at what I did, and I gave God all I had."

Scott identifies himself as a constitutionalist politically, noting that he has concerns with both major political parties. And the Tea Party?

"I think what the Tea Party movement is -- I'm all for it; they're out there fighting for our rights, fighting for what our forefathers stood for," he says.
Those forefathers, such fantastic historical role models! Fighting for their God-given rights to own black people so they could throw banana chips at them and call them "savages" and "animals" to their heart's content. Wait. What?
Delicious foodstuff or racially loaded projectile?
Oh, that's right, in this article we also learn that Scott has an interesting way of showing his affection for his teammate and "dear black friend" (every white person needs one) Felix Pie:
"Felix is my friend," he says. "I give him a hard time. The reason why I give him a hard time is because there are certain people you deal with and you go up and talk to them, and it doesn't work. They don't understand.

"I tell him about some of the ways he's acted: 'Look, you're acting like an animal, you're acting like a savage.'"

Scott turns to his locker and pulls out a bag of plantain chips.

"So I throw bananas in his helmet. Here are my banana chips to remind him that whenever he acts like an animal, 'Hey, that's what other people are thinking. They're just not telling you, but that's what they're thinking about. And I'm telling you so that you're aware of that so you can make a cognitive decision to not behave like that.' I would want someone to tell me that instead of letting you making a jerk of yourself."
So, basically, Scott is a bigot to his "friend" to prepare him and toughen him up in the case that he ever encounters a bigot. But, you see, it's all okay because Luke Scott's teammates (including the black ones) don't think this behavior is racist at all. It's just Luke:
Why would Scott choose potentially loaded words like "animal" and "savage" -- and how can they not offend either his friend or anyone in the locker room who overhears? Most teammates asked about it laugh or smile. They cite it as part of the two players' playful relationship, part of life in a big league clubhouse -- there are things that fly in there that wouldn't in the outside world.
It appears that Scott's bigotry is so unrelenting that he has lulled even his black teammates into believing his behavior is normative:
Adam Jones, who is black, says it doesn't bother him because he knows Scott is a good person and the words do not come from a bad place. If it bothered Pie, who is a dark-skinned Dominican, it might be a different situation.

"He's not a redneck racist; his beliefs are his beliefs," Jones says. "Their relationship is uncanny, and Pie ribs him just as much. I don't think Luke means any racist thing by it. Trust me, if I see racism, I'll say some s---. Quickly."
What we are left with at the end of Nelson's piece is a frighteningly uncritical portrait of a man who in 1930s Germany would almost certainly have been an enthusiastic member of the SS. The "deeper line of thought" (and by the way, I hate the way that phrase sounds) into Scott doesn't provide an ultimately redeeming glimpse into the character of someone whose words were misunderstood and who has been unfortunately labeled as a yokel and a bigot. Quite the opposite, we now have hard evidence that he is quite deserving of both labels.
If there is any point that Nelson's article makes, it is apparently that "yes, Scott is a bigot, but he is honest about it and he speaks his mind, and that should be celebrated." As his teammate Mark Reynolds is quoted as saying:
"He doesn't hide it," Reynolds says. "He doesn't talk behind people's backs about anything. A lot of people have those opinions and don't say anything. Did I think he needed to go to the winter meetings and say all those things? Probably not. But he'll give you his opinion.
Take it from Amy K. Nelson, folks: it's okay to be a dumbass racist, as long as you are honest about being a dumbass racist.